It's been quite a few interesting days.
Truly stunning results coming from my rehab, pain is largely gone and the throbbing largely subsides until late evening.
Has meant a massive change in the better for pain killers, something I've been wanting for a long time.
Pool sessions have been great, I'm going to struggle to keep these sessions going while working full time.
Physio isn't really keen for me to return to the Next Gen pool as it's both shallow and cold.
South Australia Aquatic & Leisure Centre is looking to be a great option.
My Physio loves the place and I toured yesterday and it looks to be a good fit. Their program pool is a better depth of 1.4M up from 1.2M and it's also a lot warmer at around 32 degrees C.
Going to head in for a casual visit tomorrow and drag my Dad along, if the visit works well, I'll sign up and make regular visits.
It won't be a total replacement for Next Gen I'll run dual memberships.
Back at work on Monday and I'm going to negotiate clearance to use the gym there.
A small selection of equipment there but I'm mainly interested in dumbbells, I'm not ready to invest at home as yet.
It's been a really interesting 24 hours, yesterday I smashed my pool session a little too well. The supervising Physio is having to develop my program as the current work out is now far too simple. This is a massive gain for me, when I first started the program it was hard going and would take me the full half hour to do.
Now it's so easy I knock it over in about 15 minutes. We've added to it a bit and increased the reps but, I met with my Physio today and we have a revised program for me to work with.
Only downside of the Sa Aqua and Sports Centre is no pool equipment for use. So I've had to buy some noodles and a kick board.
The kick-board is terrible, not only does it show Clark Rubbers mascot is of questionable quality.
I expect for home pool usage it's fine, but in a commercial/rehab environment I have my doubts. I'll see how saaquatic goes before I go spending even more money.
The noodles I've bought are the same as I use at the CHG pool, they are Australian Made by Clark Rubber. I stood my ground with the sales staff as the Australian noddles are about $8.75 whereas the "cheap china ones" are about $4.75 the shelf price indicated $4.75. Obviously pool noodles are normally a summer purchase, so in winter stocks are down.
I won out so I've got my 3 noodles and kickboard.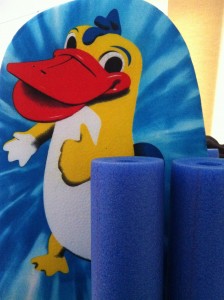 During the week, news broke of the death of a long term family friend.
While the passing is sad for the family it's a blessing as injury and in more recent years dementia robbed this person of life in recent years. Sadly the situation is compounded as the spouse of the deceased has recently been diagnosed with cancer and is about to start aggressive treatment.
I wasn't able to attend the funeral, but was pleased to be able to attend the wake.
Was really great to reconnect with that group of long term friends, many on which I've not seen for years. Was also interesting seeing many of the personalities come out, time doesn't change some things!
Solid Physio consults yesterday and today, not quite tears from her but I really had an impact on my Physio. It's fair to say both yesterday and today she was totally surprised in my progress. We're now at point where I'm the best I have been in months and I can't begin to explain how the feels.
I feel like I waking from a nightmare but at the same time trying to pinch myself to see if what I'm experiencing is real.
This whole injury has caused a mild depression and I'm still recovering from that. So far I've had a run of great solid days, while I know this won't last forever it's helping boost my self confidence which is critical right now.
This afternoon was a very special but slightly private time for me, but one that I will share.
Quite a few months ago I met someone who even in a group exercise class environment had a major impact on me, the sort of person that stands out in the crowd and you think to yourself "I want to know more about this person"
This person is Emma, she was until recently working at Next Gen. Emma is one of those infections people that raises your spirits and nothing generally is too much trouble.
She's a Gym Manager, Personal Trainer and Aqua Instructor.
Since she left Next Gen I've kept in loose touch with her. She a hard one to pin down, having started a new job which involved opening a new gym she was and is quite the busy woman.
I've wanted a individual PT session with Emma for a couple of months and particularly in the past couple of weeks I've been trying to organize it. With the return to work on Monday my focus is going to change more to a work/rehab focus rather than a pure rehab focus, that time is upon us.
So a nice way to finish that off was with a hard boxing session with Emma. Emma is significantly shorter than me, in great shape and is a fantastic motivator.
I text Emma a couple of months ago and said something along the lines of "I miss you kicking my arse, that's healthy right?" I won't post the heartfelt lol response I got back.
So today I booked Emma in, the obligatory question "how long" normally I'd go an hour but right now my endurance and bank balance says 1/2 hour.
To give Emma an idea what I was after I said " I want to push myself, but I think once we reach the half hour point you would have worn out your welcome ;)"
Now Emma is the third PT I have worked with in the past 3 months. In true form I pool different benefits from each trainer.
Emma knows me before injury and worked with me at the start of the injury process until I had boxing classes removed from my exercise clearance.
There is something about this woman, she "gets me" and knows how to motivate me by pushing my buttons but in a constructive way.
Today I trained the hardest probably ever, the feeling of wanting to puke was ever present and by the end of the last boxing interval I was almost breathless as I put everything I had in reserve and more into her pads.
I still don't know where most of what I found during that workout came from, all I know that tomorrow I'm going to be paying for it. That doesn't worry me as it's good pain and while at the time it was a hell of a battle Emma worked with me to show me that I was capable of even more than I realized.
I created a playlist for the work out and it became obviously I forgot to include the track by Kelis "I hate you so much right now"  while not true post session, it seemed fitting.
When I commit to a PT session I give it my all, Emma pushed and pushed, but also knew when I had to back off. This is why I won't push this hard without supervision as I need to be careful.
It's been an amazing week and tomorrow I need to sort out laundry and get to the pool.
Exciting times friends!