This post has been well and truly overdue.
I'm a big fan or social media, it has it place and sometimes it's used well and sometimes it's not. One example of social media working well is the Adelaide City Council's
Splash Adelaide pop up events program. Marketed as a creating a vibrant city.
I've been a follower of Sprout Cooking for a while now and also of Splash Adelaide
Picnic Lane came up on my feed as a pop up event which turned the lane way aside of the new Harris Scarf building into a lane-way with fake grass and a place to sit and eat lunch with produce from the Adelaide Central Market.
The Sprout team hand picked the two lunch box choices which at $10 including juice was a bargain.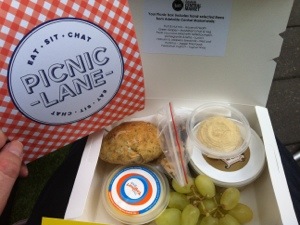 As part of the setup I noticed some Apple Crates with a sort of boxed garden setup. We'd always planned to put in raised (boxed) garden beds in the house when it was built an established nearly 5 years ago but never got around to it. The apple creates do look a bit different and "funky" and they caught my eye.
Looked up the company behind the apple crates which is The Productive Garden Co a local family business. Nick came out within a couple of days to quote and I shared my history and vision for what I wanted to achieve.
Within a week Nick came in and created what was a ready to plant garden. I was off work initially but was at work when the garden was created. At the last minute I asked Nick to take some photos which is did quite willingly. Was great to get some "before, during and hey presto! all finished" pics.
I hadn't actually given much thought about what we'd actually plant, I just wanted to make sure I had plenty of options. With 4 apple crates there was plenty of options. Nick referred me to Bickleigh Vale Farm at the Adelaide Showground Farmers Market, they carry Greenseed organic seedlings.
Diana is the lady behind Bickleigh and she was just brilliant. Could't meet a nicer person, so helpful with advise and obviously passionate and loves what she does.
Picked up quite a variety of seedlings:- Green Pearl Parsley, Sugar Bon Snap Peas, Rocket, Bay Meadows Broccoli, Asian Green Mix (BOK CHOY green & pruple MIZUNA green & red Asian Mustard) well that's what the tag says and I'm sticking to it!
Planting was a bit interesting, I've not planted anything for over 20 years so there is an element of being careful and suck it and see. Thankfully almost every planting took really well. I've somehow ended up with some snow peas on the ground (I didn't drop any) so not sure what the deal is there.
Within a week things were looking good, week two we had some flowering and now week three, wow it's really starting to take shape.
Looking forward to the first harvest!
Before
R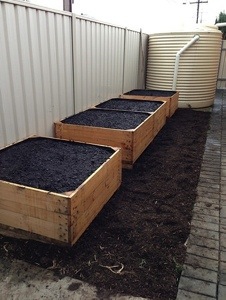 In and ready to plant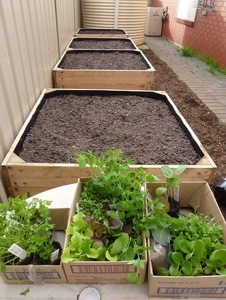 Ready to plant
Planted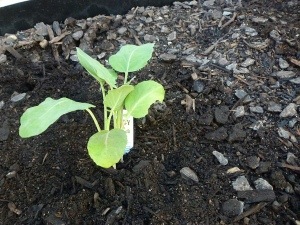 We have flowering!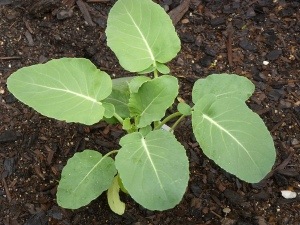 Even More 🙂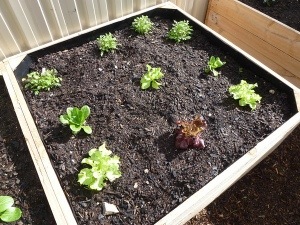 Salad box off to a strong start!
Thanks to everyone who contributed to this project. Nick from TPGC was excellent in helping me design and implement my concept and Diane for helping me pick an amazing variety of seedlings. My father was astounded at the quality and variety I ended out planting. The finished product looks amazing, the creates look brilliant and every seedling has taken.
It's amazing how catching up for lunch in a lane way off Rundle Mall can have a lasting impact.